Caldera Greens Testimonies
Caldera Greens Testimonies come in daily about how the product has impacted people and their health and energy level. There are several recorded calls from people all across North America sharing how the product has helped them with energy, stamina and many other benefits.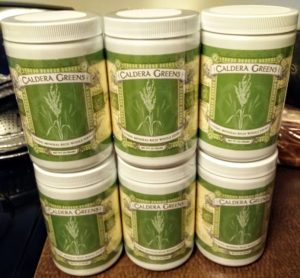 Diane in Ontario, Canada shared that she can now get out and walk for a longer time with her dog since she started using the Caldera Greens. She had been injured in a car wreck and had suffered some pain. Diane is enjoying being more active and working in her garden.
Judy in Wisconsin remarked that are digestive system is working much better. A close friend remarked about her complexion being so clear. Judy is very happy with the healthy glow her skin has now!
Luz in Washington works with her hands as a hair dresser. She was having sharp pain to the point where doing her job was difficult. She is able to move her hands without having the pain symptoms and noticed an improvement right away after taking the Greens.
Chuck in Montana remarked that he is able to stay alert all day. Before he got tired in the early afternoon.
Ella Mae in British Columbia, Canada shared that she noticed her day has much more energy, focuses better on her work and being level all day long without needing any caffeine. Ella recommends Caldera Greens to everyone that wants more energy and needs to be able to focus better on mental tasks.
Elizabeth in Ontario, Canada shared that she is now walking without her cane and feels much better on the 2nd day she has used Caldera Greens. She said that it was not easy to get up but now she can get up and be more active now.
Daniel in USA has plenty of energy to get through the day now. He is up at 05:00 every morning and lives an active lifestyle that includes daily physical activity like cycling, golf, hiking, walking, weight-bearing exercises, and yoga. Before using Caldera Greens, Daniel would get sleepy about an hour after lunch. His day is full and he can work well into the evening on websites and blog articles.
Be aware that I am not a licensed medical provider and my FDA disclaimer is found on the bottom of all my websites pages. I have had excellent results with fitness & wellness and promote products & services that I believe in. By taking effective action and using common sense, I am prescription free and living an abundant life of wellness.
My purpose is to help you have more energy and live a long life. I hope you have enjoyed reading about Caldera Greens Testimonies. There is another article on my other website below:
Your Partner in Success!